Old Wheels in Motion Rally
Old Wheels in Motion Rally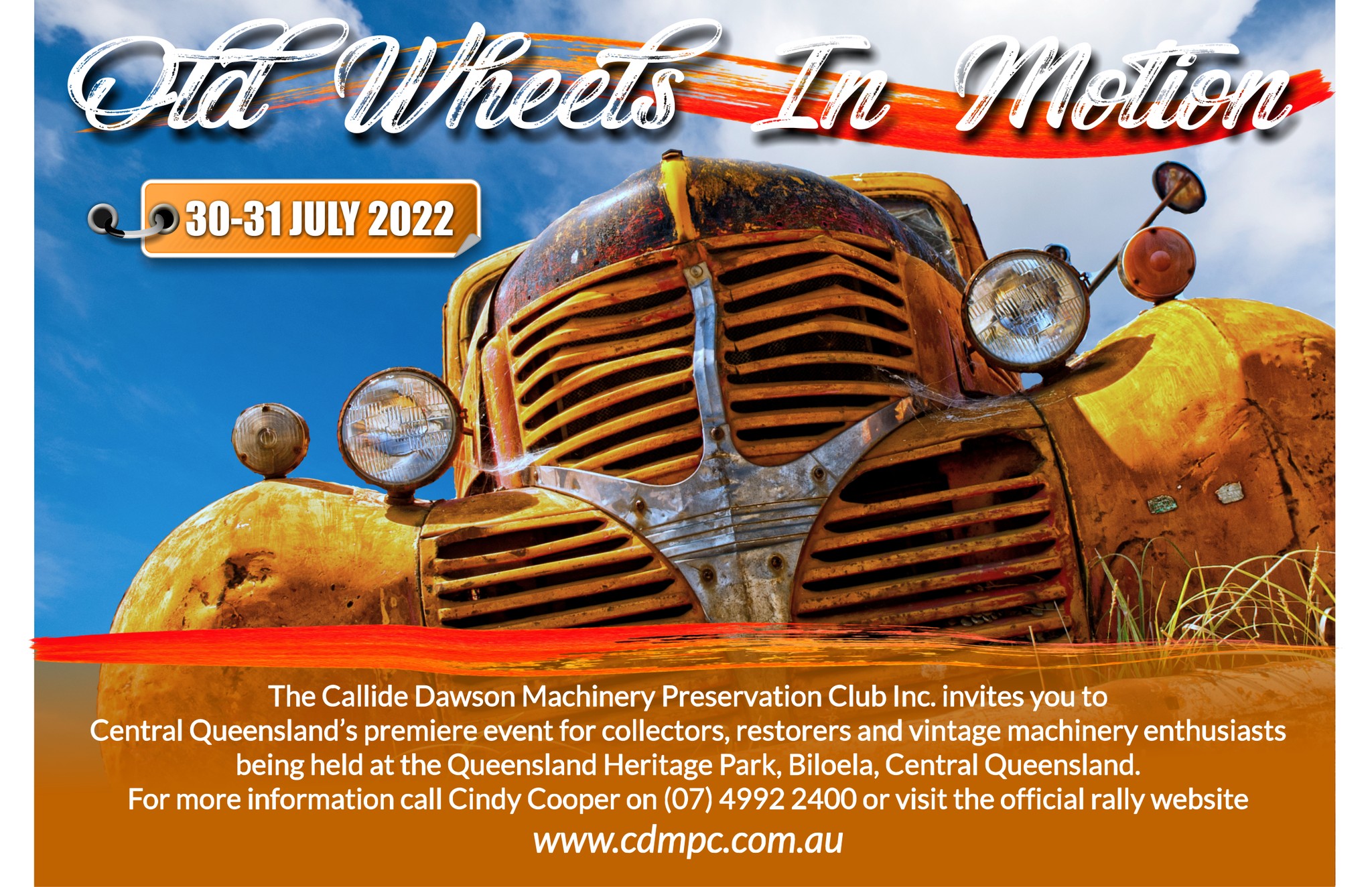 Celebrating our nation's pioneering spirit, this is the premiere event for collectors, restorers and vintage machinery enthusiasts.
Biloela (Central Queensland), the "Land of the White Cockatoo", will be abuzz with the sound of engines whirring, the clatter of horses hooves, the puffs of steam and smoke, as people from all over come to congregate and celebrate our nation's glorious past and the pioneering spirit of Australian's as the Callide Dawson Machinery Preservation Club Inc. hosts the 19th Annual Old Wheels In Motion Rally on the 30th & 31st July, 2022.
The Queensland Heritage Park, sometimes fondly referred to as the "Silo" by locals, will be the backdrop for the event. Situated at the edge of the central business district, the towering "Silo" structure (originally from the Expo '88 site in Brisbane) can be seen for miles away, acting as a beacon to those who are interested in all things heritage and days of yore.
The two day event will see exhibitors from Queensland, and across our great land, come together to host a working rally which showcases the uniqueness of the many vintage machines and collectables on display. Demonstrations and events, like the vintage tractor pull, the tractor balancing competition and the traditional grand parade, amalgamate with displays of traditional crafts and trades to educate and entertain.
Explore, discover and relive the past as you browse through the large array of displays and view the many demonstrations, including gold stamping, blacksmithing, chaff cutting, corn shelling, etc. Market stalls, trade and swap meet sites will also add to the overall atmosphere with a large array of items for sale including patchwork quilts, heritage fence panels, painted saws, gourmet handmade soaps, tools, leatherwork, woodwork and much, much more.
SPECIAL FEATURE IN 2022!!
This year we will be welcoming the Howard Register of Australia who are kicking off a series of events to celebrate 100 years of production of Howard. Our event will be the first in that series, and Howard collectors from all over Australia are set to be in attendance with an amazing array of Howard machinery and implements on display. So be prepared to see a sea of orange at this year's event!!
Gates open at 8.00am to 5pm Saturday and 8.00am to 2pm Sunday.
For more information and updates visit our website - www.cdmpc.com.au or call Cindy Cooper on (07) 4992 2400 during business hours.