Brigalow Arts Festival

15 October - 3 December 2021
Fine Art | Photography | Textiles | Sculpture | Decorative Art
Banana Shire Art Gallery Association Inc. proudly presents the Brigalow Arts Festival, Banana Shire's local visual art awards. Brigalow Arts Festival is hosted annually in October at Banana Shire Regional Art Gallery.
2021 Key Dates
Entries Open
Now
Entries Close

Friday 17 September

5:00pm

Artwork Delivery

Wednesday 6 October

9:00am - 5:00pm

Festival Opening & Presentations

Friday 15 October

Details to be confirmed

Final Day of Festival

Friday 3 December

Artwork Collection (in person)

Monday 6 December

10:00am - 5:00pm

Artwork Collection (courier & postage)
From Tuesday 7 December
Brigalow Arts Festival Awards
Please note the below list is for the 2021 Brigalow Arts Festival Awards details.
Award

Prize

Banana Shire Council Acquisitive Award
$1000
Moore Australia Acquisitive Award
$1000
Queensland Nitrate Pty Acquisitive Award
$1000
Local Artist Award
$1000
Youth Engagement Award
$150

Section 1: Burnie Smith Memorial Two Dimensional Works

1st: $1000

2nd: $200

Section 2: Three Dimensional Works

1st: $1000

2nd: $200

Section 3: Photography Theme: TBC

1st: $1000

2nd: $200

Section 4: Themed Section: TBC

1st: $1000

2nd: $200

Section 5: Emerging Artists

1st: $750

Section 6: Photography - Under 18 Years Theme: TBC

1st: $200

2nd: $75

3rd: $25

Section 7: Youth Artworks Grades 7-9

1st: $200

2nd: $75

3rd: $25

Section 8: Youth Artworks Grades 10-12

1st: $200

2nd: $75

3rd: $25

Consult the entry form for further details and conditions of entry
Judges
Artwork Judge: Andrea Chapman
Photography Judge: Mark Coombe
Sponsors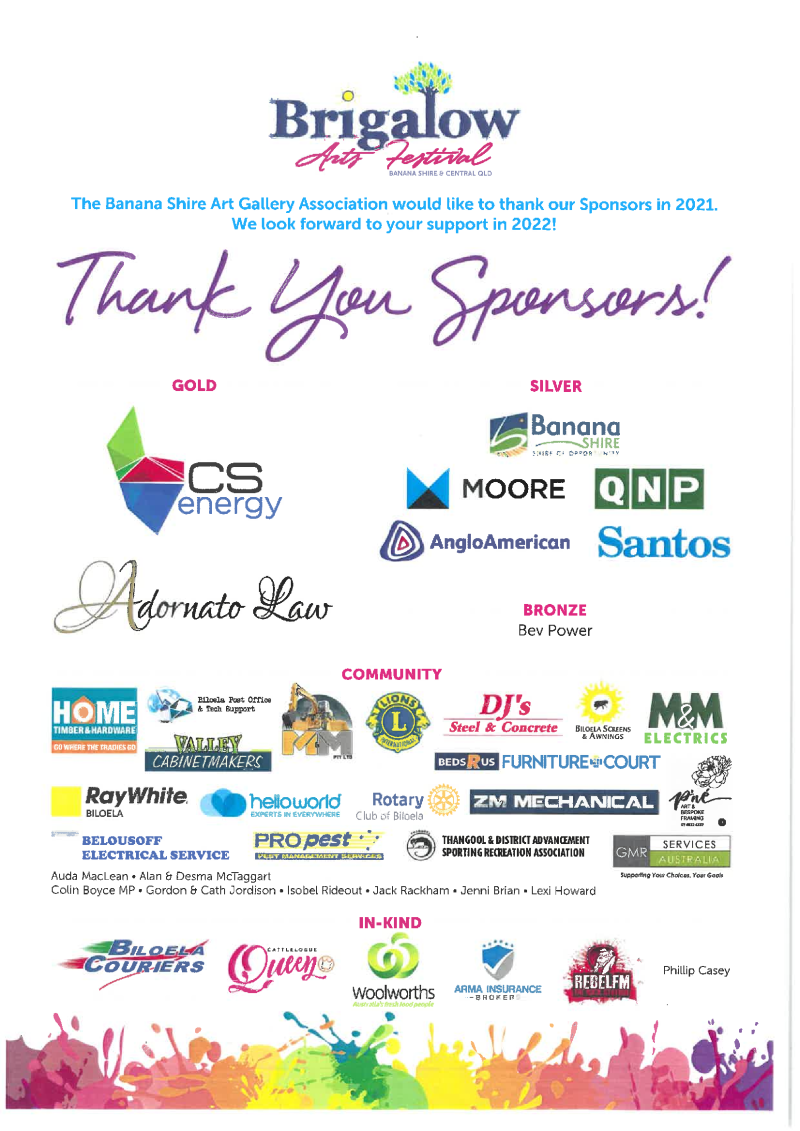 Workshop
Brigalow Arts Festival - Water Colour Workshop with Andrea Chapman (2021 Brigalow Arts Festival Artwork Judge)

WORKSHOP ARRANGEMENTS
Location: Banana Shire Council Biloela Training Facility
64 Valentines plains Road, Biloela, QLD 4715
Date: Saturday 16 October 2021
Time: 8.30am for 9.00am start - 4.00pm
Fee: $60/person
RSVP: by 9th October 2021
To make a booking please contact Banana Shire Art Gallery Association & Brigalow Arts Festival
Email: brigalowartsfestival@gmail.com Phone: Glenda Semple (President) 0428 957 271
Contact Brigalow Arts Festival