Brigalow Arts Festival

14 October - 25 November 2022
Fine Art | Photography | Textiles | Sculpture | Decorative Art
Banana Shire Art Gallery Association Inc. proudly presents the Brigalow Arts Festival, Banana Shire's local visual art awards. Brigalow Arts Festival is hosted annually in October at Banana Shire Regional Art Gallery.
2022 Key Dates
Entries Open
CLOSED
Entries Close

Friday 23 September

5:00pm

Artwork Delivery

Wednesday 5 October

9:00am - 5:00pm

Festival Opening & Presentations

Friday 154 October

Details to be confirmed

Final Day of Festival

Friday 25 November

Artwork Collection (in person)

From Tuesday 29 November

08:00am - 5:00pm

Artwork Collection (courier & postage)
From Tuesday 29 November
Brigalow Arts Festival Awards
Please note the below list is for the 2022 Brigalow Arts Festival Awards details.
Award

Prize

Banana Shire Council Acquisitive Award
$1000
Moore Australia Acquisitive Award
$1000
Queensland Nitrate Pty Acquisitive Award
$1000
Local Artist Award
$1000
Youth Engagement Award
$150

Section 1: Burnie Smith Memorial Two Dimensional Works

1st: $1000

2nd: $200

Section 2: Three Dimensional Works

1st: $1000

2nd: $200

Section 3: Photography Theme: TBC

1st: $1000

2nd: $200

Section 4: Themed Section: TBC

1st: $1000

2nd: $200

Section 5: Emerging Artists

1st: $750

Section 6: Photography - Under 18 Years Theme: TBC

1st: $200

2nd: $75

3rd: $25

Section 7: Youth Artworks Grades 7-9

1st: $200

2nd: $75

3rd: $25

Section 8: Youth Artworks Grades 10-12

1st: $200

2nd: $75

3rd: $25

Consult the entry form for further details and conditions of entry
Sponsors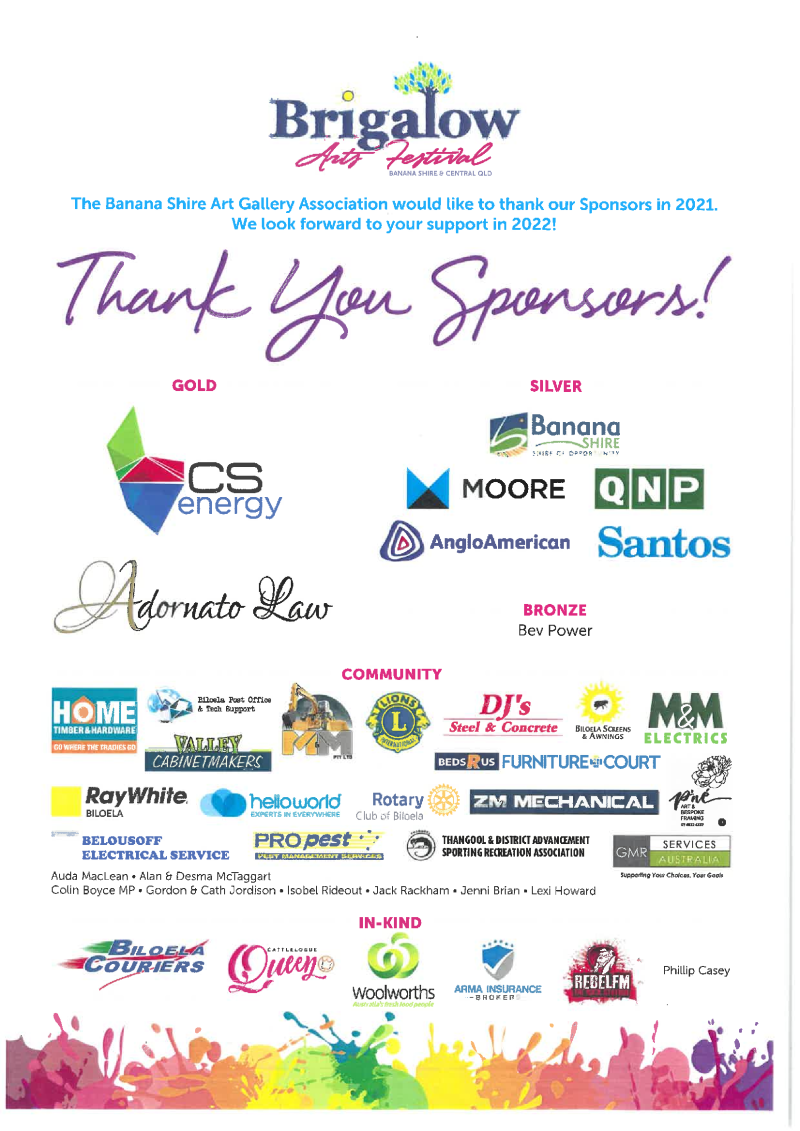 Contact Brigalow Arts Festival