Trade Waste
Trade Waste
Trade waste is all liquid waste from any industry, business or manufacturing premises. The substance from these businesses is prohibited for discharge into Banana Shire Council's sewer from any fixtures or stormwater without approval. Refer to Banana Shire Council Trade Waste Management Plan for further information.
The trade waste approval sets down the conditions by which Banana Shire Council which allow the discharge of trade waste into its sewers. To obtain approval all generators must complete and submit, with supporting information, a trade waste application form.
| | | |
| --- | --- | --- |
| Commercial | Service | Industrial |
| Butcher | Hospital | Breweries |
| Coffee Shop | Schools | Panel Beaters |
| Takeaway food outlet | Medical | Tyre Fitting |
| Restaurant | Funeral Parlour | Metal Finishers |
| Hairdresser | Hotel/Motel | Textiles |
| Mobile Cleaning Services | Commercial Laundry | Food Processor |
| Bakery | Clubs | Paper Printing |
| Supermarket | Automotive | Abattoirs |
| Fish Processing | Aged Care Facilities | Chemical Manufacturer |
The supply of incomplete information will result in delays in the processing of your application. A plumbing and drainage clearance certificate must be issued before a trade waste approval is issued.
Should more than one trade waste generator exist on the property then a separate trade waste application is to be submitted for each generator. Both the generator and the property owner are responsible to ensure Council is updated if circumstances in the permit/agreement change.
There is a charge for the discharge of trade waste to Banana Shire Council's sewers based on the quantity and quality of the waste discharged. These charges are set by Banana Shire Council and may be amended from time to time. Refer to Council fees and charges for further information.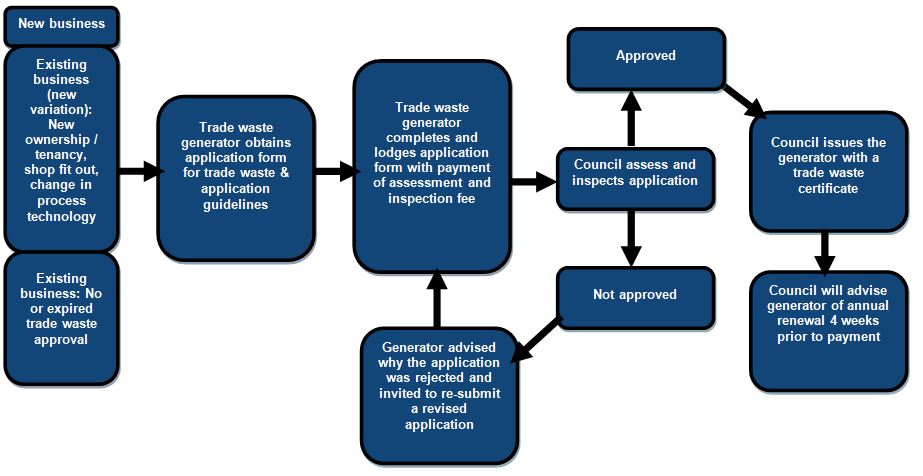 Is council going to inspect every business?
An initial trade waste site assessment will be conducted on every business that is a potential trade waste generator. If it is determined during the site assessment that trade waste is not discharged to sewer from that business, a trade waste approval will not be required and a non-generator letter will be sent to that particular business.
How is council going to determine which business to inspect?
Some business types are known trade waste generators. Others will be determined based on previous applications and approvals.
Do I need a permit (trade waste approval) for my business?
If your business discharges waste to Council's sewer that is not specifically domestic sewage waste then there is a chance you are discharging trade waste to sewer and may require a permit.
When should I apply for an approval?
If you are commencing operation of a new business, or operating an existing business that has undergone any changes, then you need to make an application to Council for approval to discharge trade waste to sewer:
How long does a trade waste approval last?
A trade waste approval lasts as long as there is no changes to the business i.e. property owner, business owner and practices remain the same.
An annual licence fee applies to all trade waste businesses.
Penalties:
Breaches of the Water Supply Act 2008 shall upon conviction be liable to a penalty not exceeding 1000 Penalty Units and a daily penalty for each day on which such offence is continued after notice is given by Banana Shire Council.
What happens when a business changes i.e. business closes and new business moves in, or same business with a change of owner?
Approval to discharge trade waste to sewer is not transferrable. A new application for approval to discharge trade waste to sewer is required. Even if it is only the business owner that changes, not the operations, a new application is required as operating procedures and practices may change causing a possible change to discharge strengths. Business owners should contact Council if their business operation cease.
Is there a fine if businesses continue to discharge without trade waste approval?
It is an offence to discharge trade waste to sewer without approval. Each individual business discharging trade waste to sewer will be provided the opportunity to apply for approval. If a business does not apply for approval and continues to discharge trade waste to sewer, Council may take measures to ensure discharge stops and/or apply penalties for breaching the Water Supply (Safety and Reliability) Act.
Sampling of trade waste:
To ensure compliance with the Water Supply Act 2008 and Sewer Admissions Standards, Banana Shire Council may take from time to time take samples of trade waste for analysis by a N.A.T.A registered laboratory. A sampling point for each generator is to be provided by the owner of each property. Furthermore, should the trade waste exceed to admission standards for Biochemical Oxygen, Chemical Oxygen Demand and Suspended Solids, the results of the testing will be used as a basis for charges.
What is a grease trap?
A grease trap is a pre-treatment device that separates fats, oils, grease and solids from the wastewater by cooling, causing the congealed grease to rise to the surface of the grease trap. The baffles in the trap slow the water flow so that the solids settle to the bottom and oil and grease float to the top of the trap.
Should I have a grease trap or an arrestor?
Grease traps are used in the food industry such as hotels/motels, restaurants, cafes, butchers, bakeries, schools (canteens) and takeaways.
Who is responsible for servicing a grease trap?
The trade waste generator is responsible for installation of any pre-treatment device required as well as servicing by an approved licensed waste contractor.
Who should have an oil/water separator?
Any workshop that has a wash down bay or any other discharge to sewer from pits and machinery should have an oil/water separator.
Who is responsible for servicing a separator?
The trade waste generator is responsible for getting their separator serviced by a Council approved licensed contractor.