Recovering The Past | Ian Alderman

20 March - 10 July 2020
MAIN GALLERY
This powerful and timely photographic exhibition documents the physical and psychological consequences of the Great War. The exhibition is comprised of 25 thought-provoking montage images accompanied with poignant quotes sourced from Australia's archives.

Through thousands of dedicated cemeteries and memorials, we rightly remember the men who died in the battles of the Great War. With few commemorative sites dedicated to the war-widows, grieving mothers and traumatised returning soldiers who endured great personal suffering from the war in the years after the Armistice, their plight has been largely forgotten. Through its focus on Australia's own post-war experience, Recovering The Past raises the profile of these people, and in doing so, has given them a long overdue and much deserved voice.

Likewise, the ongoing lethal legacy of the Great War in modern day Flanders is also often overlooked. Hundreds of tonnes of unexploded ammunition from the war is unearthed every single year in the fields, construction sites and backyards of the region. Produced over a six-year period, artist Ian Alderman was given unprecedented access to the operations and facilities of DOVO-SEDEE the Belgian bomb disposal team tasked with the removal of this dangerous legacy.

Artistically inspired by the work of Australian icons photographer Frank Hurley and artist Will Longstaff, each of the exhibition's images are a montage of two groups of men; the personnel of the Belgian army's bomb disposal team and archival images of men of the Australian Imperial Force.

An unrivalled project, six years in the making, Recovering The Past has a narrative that is not just applicable to the Great War, but to all wars since, and likely those to come. Recovering The Past caries a universal human message of timeless relevance.
About the Artist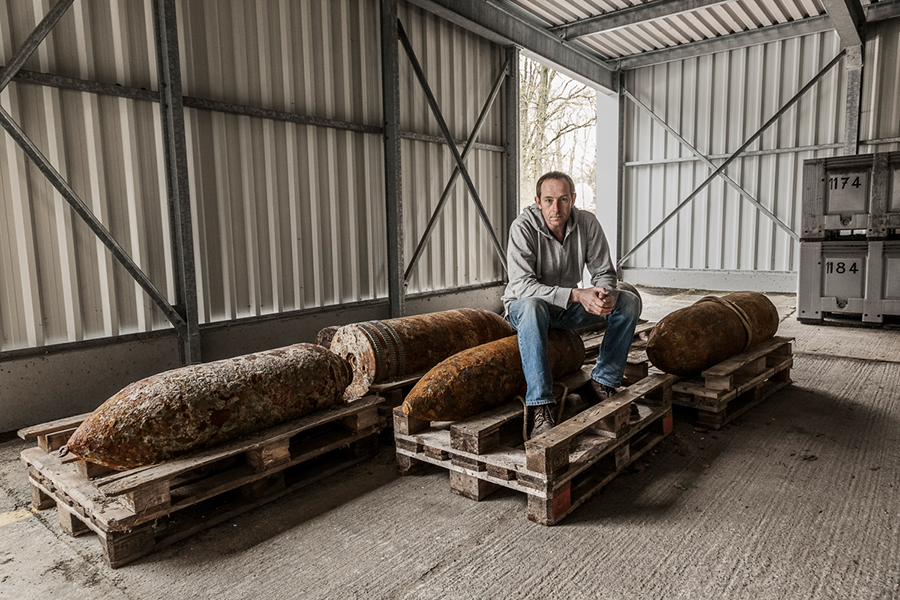 Alderman was allowed unprecedented access to photograph previously undocumented high-risk toxic environments for this project. The trust afforded to the artist by DOVO-SEDEE has enabled him to produce this unique study of the relentless and potentially lethal work of this permanently based, bomb disposal team on the Great War's former Western Front.

Produced with the centenary commemorations of the Great War and Armistice at its heart, this complex non-commissioned project of over six years in the making is the result of the artist's own long-term vision and dedication. This ambitious project work reflects his desire to raise the profile of a tragic and less-appreciated consequence of war, a plight that has afflicted his own family:
"In August 1916, my great-grandfather – Henry George Spearing – became a casualty of the battle of the Somme. Shot in the spine and paralyzed from the waist down, the injury was his alone, although its consequences were not.

Invalided home - and till his death in 1936 - Henry was nursed on a permanent basis by my great grandmother Louisa-Jane. Despite having never gone near the Western Front itself, for the 20 years following Henry's return, Louisa-Jane's own now compromised life had itself become a consequence of the war".

Their shared experience was the inspiration for this project.
Ian Alderman 2019