Jabu Birriny (land + sea) | Contemporary stories by Yarrabah artists

Pronounced: Jah-boo Bir-rin-ee
21 August – 2 October 2020
MAIN GALLERY
Jabu Birriny (land and sea) celebrates the unique environment of Yarrabah and its ongoing importance to culture and people.
Located on the shore of Cape Grafton in Far North Queensland, Yarrabah is the traditional Country of the Gunggandji people. It is a dynamic Aboriginal community surrounded by tropical native bushland and mountain ranges united by sandy coastlines and coral reefs.
Jabu Birriny shares stories rich in lineal and recent histories through vibrant prints, intricately woven vessels and textured ceramics that embody the land and sea. The exhibition has been co-curated with Yarrabah Arts and Cultural Precinct, a branch of the Yarrabah Aboriginal Shire Council.
Yarrabah Art Centre artists and independent artist Elverina Johnson are renowned for their production of distinctive contemporary work in the mediums of ceramic, textile, fibre, print and painting. Each artist has their own unique approach to their art making which celebrates the community's cultural identity of the land and sea and continues the cultural practices and stories unique to the area.
Artists: Philomena Yeatman, Michelle Yeatman, Valmai Pollard, Edna Ambrym, Ruben Ambrym, Eric Orcher and Elverina Johnson.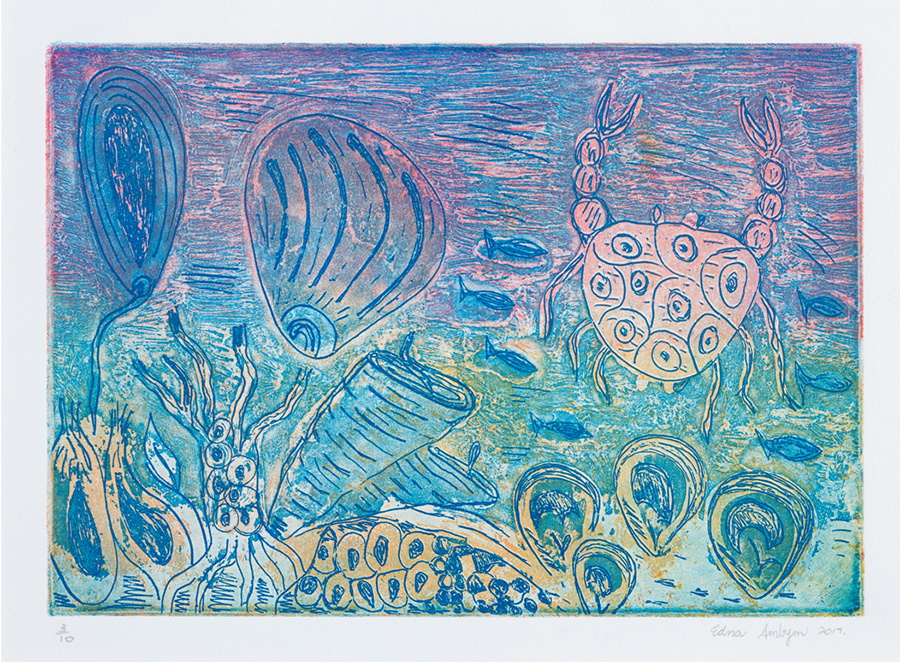 Image: Mayi Bugaam - Sea, 2017, Edna Ambrym. Photo by Mick Richards Photography. Courtesy of Yarrabah Arts and Cultural Precinct.
Public Programs
In partnership with YACP, Flying Arts will enhance the touring of Jabu Birriny (land + sea) by coordinating a ground-breaking initiative for deeper engagement between Yarrabah artists and regional communities through a dynamic suite of public programs, travelling artists, community members and Elders from Yarrabah to share art and culture with specially invited Indigenous and Non-Indigenous community members from galleries in ten regional Queensland communities.
Public programs for Banana Shire Regional Art Gallery are to be confirmed pending further information regarding travel restrictions.
About Yarrabah Arts & Cultural Precinct
The Yarrabah Arts & Cultural Precinct was established to provide facilities for local artists to strengthen art and cultural practice across weaving, painting and ceramics. Well known for its pottery, Yarrabah Arts Centre continues to produce outstanding work and increase its profile in the national and international Indigenous arts market, strengthening local economic development in support of Yarrabah Aboriginal Shire Council's long-term strategic planning.
These future plans enrich traditional practice and offer opportunities for national and international visitors wishing to learn more about the culture of tropical north Queensland.
In partnership with the Department of Communication and the Arts, Indigenous Visual Arts Industry Support (IVAIS) program and Arts Queensland Backing Indigenous Arts (BIA) – Yarrabah Arts & Cultural Precinct deliver an exciting and ambitious visual arts program focussed on strengthening the sustainability of the Art Centre, preserving culture and providing economic opportunities for artists.
---
Jabu Birriny (land + sea) exhibition was developed by State Library of Queensland (SLQ) in partnership with Yarrabah Arts and Cultural Precinct (YACP), touring by Flying Arts Alliance thanks to Arts Queensland via the Playing Queensland Fund.