Dee and her danes declared starters for Dogs Day Out
Dee and her danes declared starters for Dogs Day Out
Dee Cuff loves dogs and she is eagerly awaiting Banana Shire Council's Dogs Day Out event being held in Moura on 28 July.
Dee will be attending the walk with her two great danes Hugo and Polar and will also have her pet hydro bath stall set-up at the event.
"I think the Dogs Day Out is a terrific initiative," Dee said.
"It is important for dogs to get out and enjoy a good walk and to socialise with dogs, both large and small.
"It will also be a great opportunity for dog lovers to interact with each other as well.
"That fact that Council is offering free microchipping on the day is an added bonus.
Dee said the event would also provide her with an opportunity to showcase her hydro bath service to the community.
"I will be one of several Moura business owners with stalls set up on the morning – so it is not just about getting your dog out for a morning walk, it is also an opportunity for community members to see what services and products are available for pets within their home town and to meet the business owners face-to-face."
Dee said she was expecting a good turn out on the morning.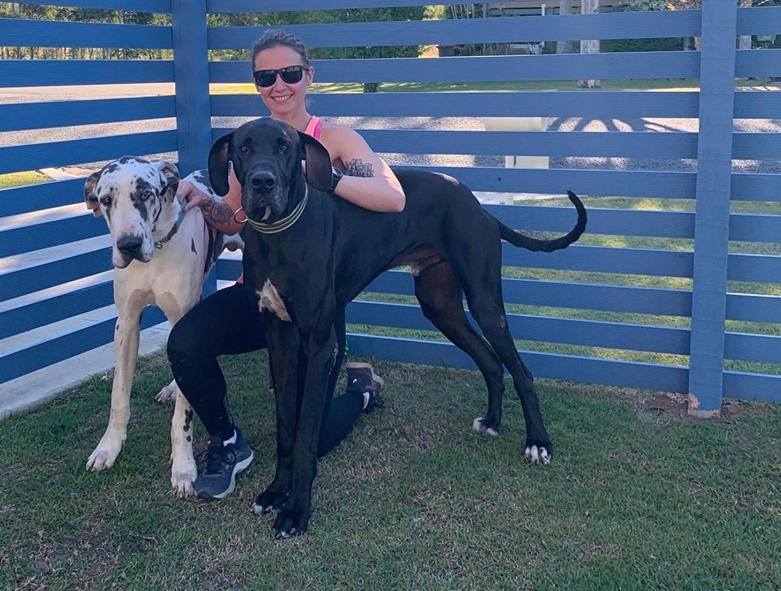 Moura's Dee Cuff is looking forward to taking Polar and Hugo along to Banana Shire Council's Dogs Day Out on 28 July
Dogs Day Out is being held at the Moura Recreation Reserve on Sunday 28 July from 9am to 1pm.
In addition to information stalls, market, food vendors and entertainment, Little Aussie Encounters will holding an animal display including snake and crocodile handling.
The Educational Mobile Unit (EMU) will also be present on the day. The Educational Mobile Unit (EMU) is a state-of-the-art classroom on wheels filled with interactive animal welfare education, ideal for kids to explore the responsibilities of pet ownership, the lives of farm animals, and our relationship with Australia's unique wildlife.
The McFuddle's Farm team will be in attendance delivering story readings for the popular children's story books.