Barrett Street upgrade provides safe link between Biloela schools and CBD for vulnerable road users
Barrett Street upgrade provides safe link between Biloela schools and CBD for vulnerable road users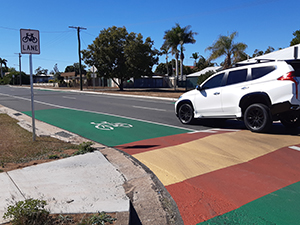 Cyclists and other vulnerable road users now have a safe link between Biloela's education precinct and the CBD, following the completion of an upgrade to Barrett Street.
The $460,000 project was 50% co-funded by the Department of Transport and Main Roads (TMR) through the Cycle Network Local Government Grants program and Banana Shire Council.
Banana Shire Council completed the majority of the design and construction with assistance provided by TMR's Cycling Design Team and various local contractors.
Banana Shire Mayor Nev Ferrier said the project provided a link for vulnerable road users, like cyclists, people on mobility scooters, skateboards and scooters, from Scoria St to Kariboe St.
"It connects to existing paths and as a result provides a safe route from the high school to the Biloela Shopping Complex, avoiding the busy Dawson Highway, and links to the PCYC and Magavalis Sporting Reserve," Cr Ferrier said.
During the project kerb and channelling from Grevillea St to Bell St was replaced, traffic calming devises installed to increase road safety and parking bays defined.
Cr Ferrier said the need for the project was identified after Council received
correspondence from local residents regarding traffic speed and interactions along Barrett St.
"Council is extremely grateful that TMR helped fund the project. Without funding support like this, this project would not have been possible," Cr Ferrier said.