Third staging of Festival of Small Halls rocks Wowan
Third staging of Festival of Small Halls rocks Wowan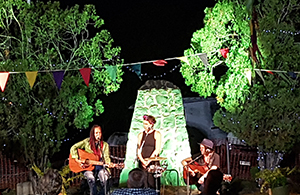 The weather was mild, the music divine and the atmosphere soothing – combining for a hugely successful Festival of Small Halls event at Wowan.
The third annual Festival of Small Halls performance coordinated by Banana Shire Council was held at the Wowan RSL Hall on October 30.
A crowd of 102 people enjoyed the entertainment provided by Shellie Morris and Hussy Hicks and local talent the Olsson Sisters.
Banana Shire Deputy Mayor Colin Semple said it was a great night for everyone who attended.
"The quality of the artists who performed was top class," Cr Semple said.
"This is the third Festival of Small Halls Council has hosted with the communities of Goovigen and Theodore enjoying previous events and Council is committed to supporting access to unique cultural experiences for our communities."
Festival of Small Halls producer Eleanor Rigden said the artists fully appreciated all the work that went into the event and the crew was really impressed with local performers the Olsson Sisters.