Council support keeps chaplaincy service on the road
Council support keeps chaplaincy service on the road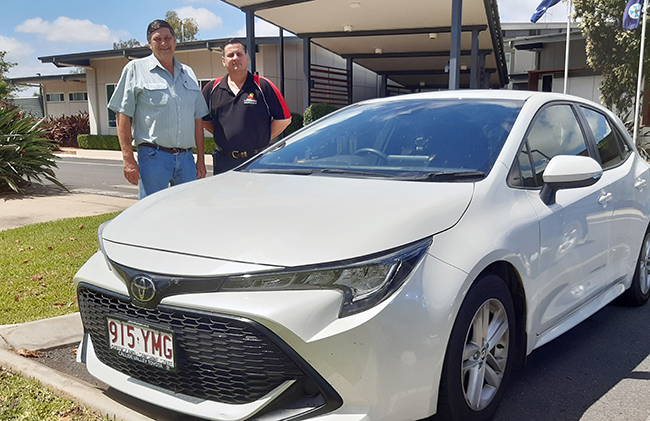 Dawson Valley Chaplain Luke Siegmeier thanks Mayor Nev Ferrier for Council's ongoing support of the service.
Luke Siegmeier travels thousands of kilometres every month in his role as Dawson Valley School Chaplain.
Every week we drives from Biloela out to Baralaba, Woorabinda and Jambin State Schools to provide this service to the students attending these small schools. Providing this service would be made more difficult without the financial assistance of Banana Shire Council. Since 2007 Council has helped provide a vehicle for use by the School Chaplaincy service in the Banana Shire.
Recently Council agreed to increase and extend its vehicle service agreement with the chaplaincy service.
Historically Council has paid for registration costs, insurance, servicing and maintenance of the vehicle.
Council will increase its annual contribution from $2000 annually to $3000, with the agreement extended to 2024.
Dawson Valley School Chaplain Luke Siegmeier said Council's assistance was greatly appreciated.
"This contribution helps to ensure the Scripture Union can continue to deliver this service to some of the smaller schools in the region," Luke said.
"The Scripture Union is a Christian organisation seeking to bring God's love, hope and good news to children, young people and their families.
"We work with local schools, local churches of all denominations and community groups towards a common vision - to see each child and young person connected and supported in the community, serving other and experiencing the fullness of life.
Luke said he used the vehicle to travel out to Baralaba, Woorabinda and Jambin schools each week.
"The vehicle is also used other members of the chaplaincy service when needed to attend training or to travel to other parts of the region."