2021 Banana Shire Australia Day Awards Winners Announced
2021 Banana Shire Australia Day Awards Winners Announced
Congratulations to the Banana community on hosting the Official 2021 Banana Shire Australia Day Celebrations on Tuesday 26 January 2021.
Thank-you to the organising committee, volunteers, sponsors, community groups and all who contributed to making the day a great success.
Six residents of our Shire proudly became Australian Citizens and winners of the Banana Shire Australia Day Awards were announced. The following list includes nominees and winners for each award. Congratulations to all recipients and nominees, we are proud to have such extraordinary citizens call Banana Shire home.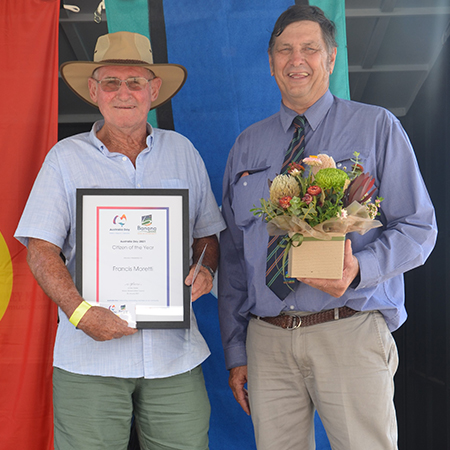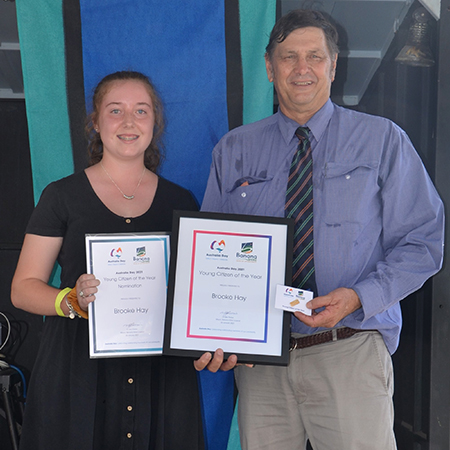 2021 Citizen of the Year Francis Moretti and 2021 Young Citizen of the Year Brooke Hay with Mayor Nev Ferrier.
Citizen of the Year

Francis Moretti

For his outstanding efforts and significant contribution to the region within sport and community groups and events.

Winner

John Muller

For his significant contribution to the Thangool Race club and broader Thangool community.

Nominee

Judy Mazzer

For her work in disability and aged care awareness, advocacy and support.

Nominee

Kate Mooring

For her fundraising efforts supporting many great causes and the Theodore community.

Nominee

Young Citizen of the Year

Brooke Hay

For raising awareness and fundraising for children and young people living with chronic illness.

Winner

Volunteer of the Year

Loraine Hellyer

For her contribution to various organisations, events and projects within the Theodore community.

Winner

David Snell

For volunteering within the Biloela community particularly at Wahroonga Retirement Village and Biloela PCYC.

Nominee

Francis Moretti

For his significant contribution to various causes and community groups including Callide Valley Lions Club.

Nominee

Hilary Coulter

For her leadership in coordinating the annual Taroom Art Show, Taroom Tidings newsletter and 'Buy Local' Christmas campaign.

Nominee

Jessica Weimar

For her contribution to the management, success and prosperity of the Theodore Early Childhood Centre.

Nominee

Cultural Award

Ashley Cook

For his achievements and success as a country music singer and bush balladeer.

Winner

Alan McTaggart

For his determination in ensuring the continued success of the annual Brigalow Arts Festival.

Nominee

Rhana Maher

For her contribution to the Biloela Eisteddfod Society, particularly in the area of speech and drama.

Nominee

Junior Cultural Award

Lilly Smith

For her achievements, passion and volunteering in the art of dance.

Winner

Senior Sportsperson

Mel Collins

For her outstanding achievements in water skiing and water sports.

Winner

Junior Sportsperson

No nominations received

Sports Coach, Official and/or Administrator

Paul Fowkes

For his contribution to the Callide Dawson Pistol Club and his dedication and love of the sport.

Winner

Britt Nash

For sharing her skills and knowledge as a rural swimming coach.

Nominee

Shari Hancox

For her outstanding leadership and contribution to netball and the local community.

Nominee

Community Group or Team

Biloela Netball Association Committee

For their leadership within the sport of netball and ability to face challenges and innovate.

Winner

Biloela Valleys Football Club

For their work in ensuring sport continued during the COVD-19 pandemic and the success of the Senior Men's Team winning the Grand Final.

Nominee

Leichhardt Branch of the Australian Stock Horse Society

For their adaption during the COVID-19 pandemic and continued success as a community group.

Nominee

Moura Tigers Junior Rugby League Club

For their unwavering commitment to provide sporting opportunities to children of the community.

Nominee

Community Event of the Year

2020 Brigalow Arts Festival

For adapting to deliver a successful event following impacts of COVID-19.

Winner

2020 Festival of Small Halls - Wowan

A successful and well-received COVID-Safe community event.

Nominee
Proudly brought to you by the Banana community with thanks to our generous sponsors
Assisted by the Australian Government through the National Australia Day Council
Acres Rural, Anglo American, Cutting Edge Graders, Mitre 10 Moura, Westside