ROTARY TEAMS WITH BILOELA TO REDUCE HIGH BOWEL CANCER RATE
ROTARY TEAMS WITH BILOELA TO REDUCE HIGH BOWEL CANCER RATE
ROTARY TEAMS WITH BILOELA TO REDUCE HIGH BOWEL CANCER RATE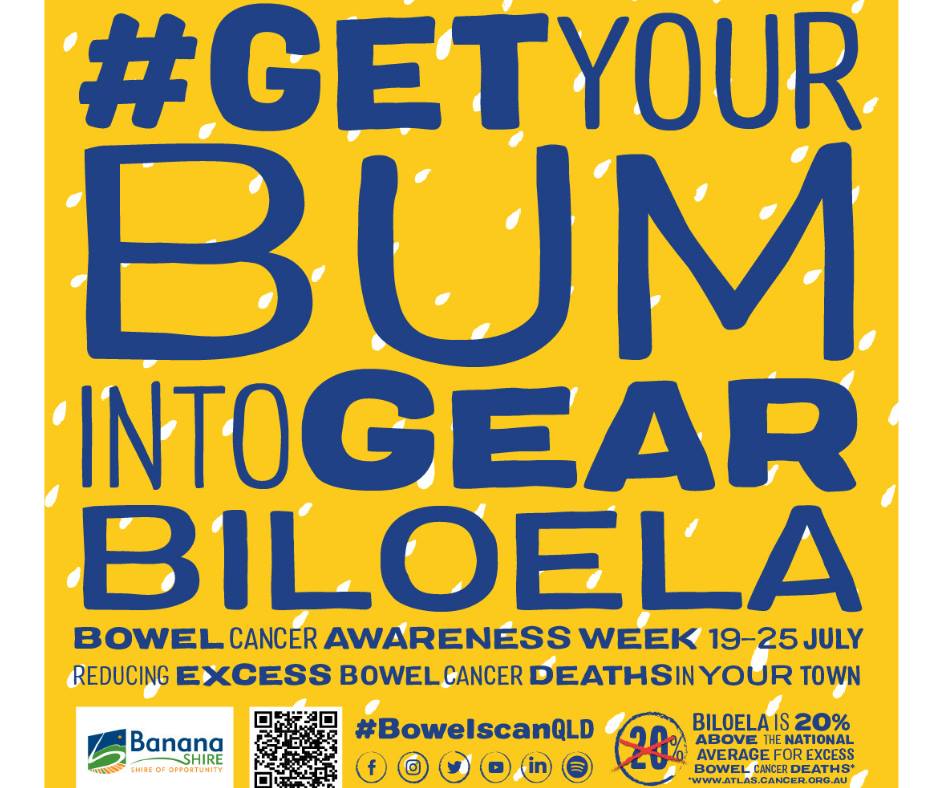 It might take a village to raise a child but it will take a whole community to beat bowel cancer. According to the Australian Cancer Atlas, Biloela is 20% above the national average for excess bowel cancer deaths. Along with the Banana Shire, the Queensland Rotary Bowelscan Committee is hoping that a whole-of-town approach will turn that around with an important awareness campaign.
Starting Monday 19 through to Sunday 25 July, the #GetYourBumIntoGearBiloela Week wants to grab the attention of the whole town including Council, health professionals, businesses, sporting groups and volunteer groups. Following on from the highly successful #GetYourBumIntoGearQLD Tour last April, Rotary is hoping to raise awareness of bowel cancer, the symptoms, encouraging over 50s to use the free government test kits and to help prevent early onset under age 50 bowel cancers.
Spokesperson for the Queensland Rotary Bowelscan Committee, Mal Padgett, said, "Many think bowel cancer is just an old person's disease but 10% are under 50. That is around 1550 Australians annually or 30 young people a week are told, 'You have bowel cancer.'"
"On our recent tour through Queensland, the people we met in Biloela were visibly shocked when they heard that high bowel cancer statistic for their town. Everyone we met had no idea and all wanted to know how they can help. #GetYourBumIntoGearBiloela is an opportunity to rally the whole community to fight this preventable disease."
"I encourage all of Biloela to get behind this. Our community is well above the national average so we all need to #GetYourBumIntoGear and get tested," said Banana Shire Council Mayor Nev Ferrier. "Help spread the message through your community or workplace anyway you can and we can get this number down."
On Rotary #BowelscanQLD social media, they interviewed five young Queenslanders from age 29 to 39 for their #2Young4BowelCancer campaign, all of whom have challenging stories of how their lives were turned upside-down when they contracted early onset bowel cancer.
Around 15,500 people contract bowel cancer a year which is the second highest cancer killer and the third most diagnosed cancer.
If it is found early enough it is 98% curable but only 50% are found early. If it is found at stage 4, the five year survival rate drops to 16%.
Only 42% of the free Federal Government bowel cancer test kits are returned, only one in three between 50 and 55 use them.
Rotary are selling their test kits online for $20 or you can buy one at your local pharmacies in Biloela who are participating, Biloela Discount Chemist and Biloela Medical Centre Pharmacy.
Until 31 July, search for #BowelscanQLD to find and follow Rotary's campaign social media and also to purchase a kit online.