Art Gallery - About

Art Gallery - About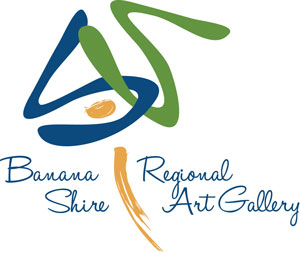 The Banana Shire Regional Gallery (BSRAG) is an initiative operated by the Banana Shire Council and sits alongside the Banana Shire Council Chambers in Biloela. The gallery is free to the public and displays local, Central Queensland artists, and works from beyond through touring exhibitions. The gallery has two exhibition spaces where displays are changed around every 6-8 weeks, and workshop facilities.
The gallery also houses the Banana Shire Art Collection which is displayed amongst the exhibition schedule.
History
The Banana Shire Regional Art Gallery was officially opened by Honourable Jeff Seeney MP in August 2013. The art gallery is the first public premises dedicated to visual art display and storage in the Banana Shire. For many years the local community worked towards establishing an art gallery in the Shire, a group of like-minded people formed the Biloela Art Gallery Committee which later became the Banana Shire Art Gallery Association. The members fund raised and steadily built up a collection of works with the proviso that it would be handed to Council when a suitable building was provided. By the mid-nineties the collection had grown to around 91 pieces and it was donated to Council for safe storage in 1997. Now, the Banana Shire Art Gallery provides a purpose built facility for safe storage and exhibition of our artworks and a place for local and regional artists to exhibit their work.
Staff
Arts and Cultural Officer: Shanna Muston
Volunteers
BSRAG welcomes new volunteers to join our friendly and welcoming team. No arts experience is necessary and there are a variety of tasks to be involved in. Volunteers are essential to the running of the gallery and ensuring it continues to grow and evolve. Contact us to join the volunteer team.
Examples of how you can help at the gallery:
Installing and demounting exhibitions
Assisting with setup and running of gallery events
Assisting with collection management
Basic computer tasks and data entry
Acting as an ambassador for the gallery within the community​
Shop
The Banana Shire Regional Art Gallery stocks affordable works and prints by Central Queensland Artists who have exhibited at our gallery. The gallery also houses a limited edition collection of Ruby Campbell etchings, The Kilburnie Suite, which are available for purchase. The suite is a series of works printed by Ellie Neilsen from restored Ruby Campbell etching plates found at Kilburnie Station.